Agatha Christie: UBI celebrates the birth anniversary of the Queen of Crime!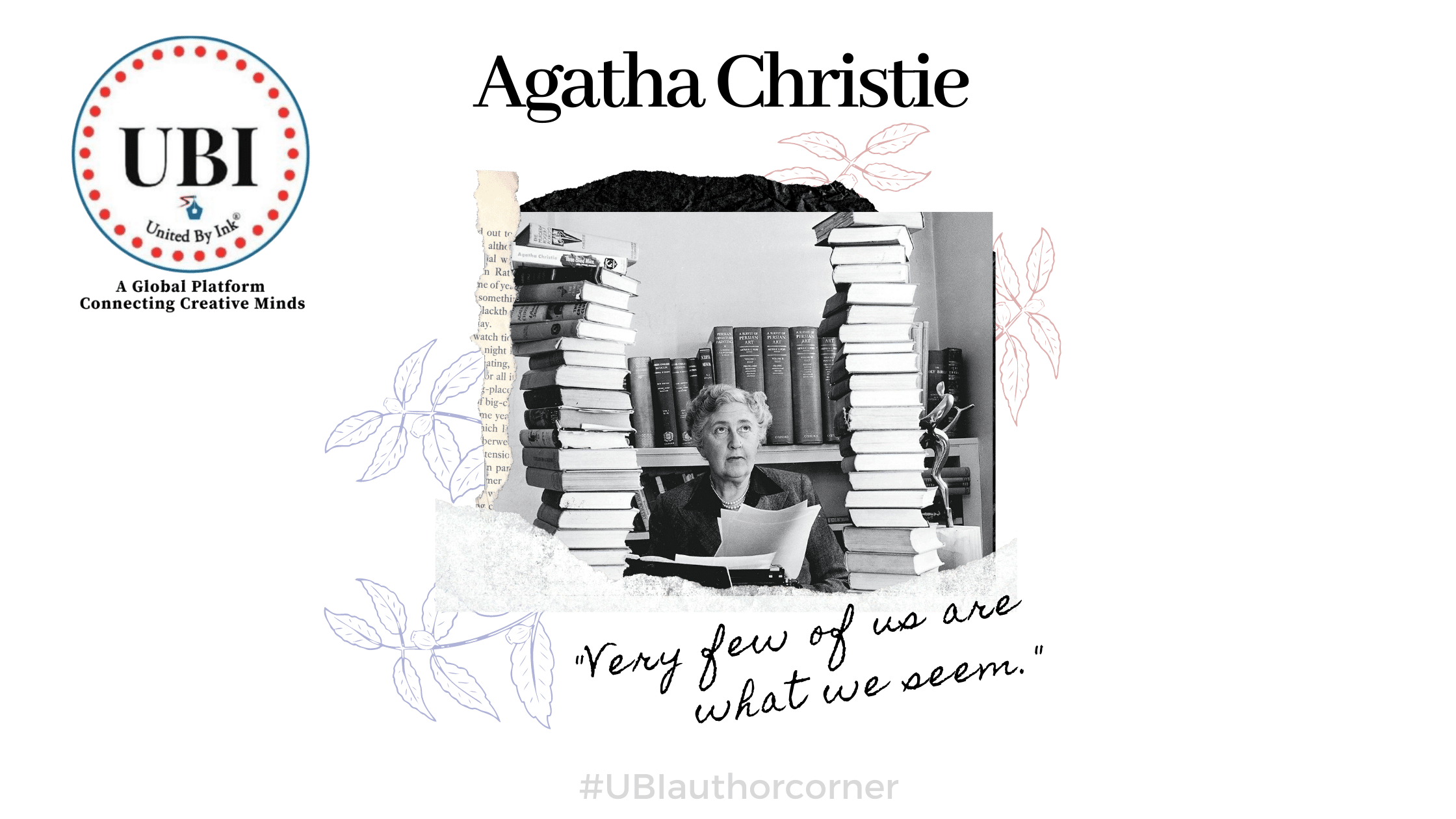 Agatha Christie has an unequivocal legacy. The world knows and celebrates the Queen of crime, so much so that The Royal Mint of England has now released an AGATHA CHRISTIE £2 COIN!  But how did her journey begin, what can we learn from her writing? On 15th September, the birth anniversary of Dame Agatha Christie, UBI celebrates in our #authorcorner by bringing you top tips about how to write like Christie's interesting novels as well as some rare glimpses into her equally interesting life.
"Outsold only by the Bible and Shakespeare, Agatha Christie is the best-selling novelist of all time. She is best known for her 66 detective novels and 14 short story collections, as well as the world's longest-running play – The Mousetrap."
Childhood and Early Youth
Schooling
Christie never had a formal education, she was homeschooled, largely by her American father, and a succession of governesses. Her mother, who was a storyteller, did not want a young Agatha to learn to read until she became eight years old! It was Agatha who, being the bored only child at home (her two older siblings were much older), taught herself to read at the age of five. She loved music, singing, and theatre, often performing in amateur theatricals in Torquay. 
She went on to study in Paris to be a classical musician but was too nervous to perform! Her secret fantasy of becoming an opera singer was also shattered when she was told her voice would never be strong enough for opera.
"One of the luckiest things that can happen to you in life is to have a happy childhood. I had a very happy childhood. I had a home and a garden that I loved; a wise and patient Nanny; as father and mother two people who loved each other dearly and made a success of their marriage and of parenthood."

— An Autobiography, Agatha Christie
Writing
Her first piece of work was as a young girl, a story named The House of Beauty, which she wrote to stave off boredom while in bed recovering from influenza. How productive! 
A Career as a Nurse
Her life as a nurse was instrumental in taking Agatha Christie from a simple writer to the Queen of Crime we love today.
She wrote her first published novel 'The Mysterious Affair at Styles', after a bet with her Sister while Christie was working as a nurse. Christie was a VAD nurse in Torquay's Red Cross hospital during the First World War, where she acquired her knowledge of poisons. Right about now, we thank fate for ensuring Christie didn't become an opera singer or she would never be the nurse who knew so much about poisons that it made her the world's Queen of Crime thrillers!
Another interesting way in which her life as a nurse affected her writing was when a chemist she crossed paths with inspired a character in The Pale Horse. While at the Torquay Pharmacy, she noticed the chemist, who boasted about keeping curare ( a poison) in his pocket, had made a mistake. He miscalculated the amount for a dangerous drug before putting too much of it into a batch of suppositories. Knowing he would not like to be corrected, she "accidentally" knocked the dangerous medicine to the ground and stomped on it to make it unusable.
Fun Fact about The Pale Horse, her vivid description of poisoning in this novel helped lead to the arrest of real-life killer Graham Young in 1971!
Writing Her Debut Novel
Christie's first novel, 'The Mysterious Affair at Styles', was rejected by publishers for 4 years. It was finally accepted by Penguin Publishers as one of the first ten books they published. 
The novel won her only £25 (Rs. 2300). 
Often times we see prominent writers like Agatha Christie, Stephen King, JK Rowling, and others have all faced severe setbacks and rejections. The common thread that binds them is their relentlessness. They just keep going. In a heartwarming turn of events, Christie's debut novel went on to become a success and she named her house 'Styles' after this.
Writing legacy: What can we learn?
So how did her legacy come to be what it is today? What can we learn from her growth as a writer? Hear it in her own words as she talks about how she came up with her first novel:
"I began considering what kind of a detective story I could write. Since I was surrounded by poisons, perhaps it was natural that death by poisoning should be the method I selected. I settled on one fact which seemed to me to have possibilities. I toyed with the idea, liked it, and finally accepted it. Then I went on to the dramatis personae. Who should be poisoned? Who would poison him or her? When? Where? How? Why? And all the rest of it. It would have to be very much of an intime murder, owing to the particular way it was done; it would have to be all in the family, so to speak. There would naturally have to be a detective. At that date I was well steeped in the Sherlock Holmes tradition. So I considered detectives. Not like Sherlock Holmes, of course: I must invent one of my own, and he would also have a friend as a kind of butt or stooge–that would not be too difficult. I returned to thoughts of my other characters. Who was to be murdered?…. I could, of course, have a very unusual kind of murder for a very unusual motive, but that did not appeal to me artistically. The whole point of a good detective story was that it must be somebody obvious but at the same time, for some reason, you would then find that it was not obvious…"

— An Autobiography, Agatha Christie
From observing her neighbor to a group of Belgian Refugees, the process of how Christie came up with the world-famous character Hercule Poirot (who was given a full-page obituary in The New York Times when he died!) is especially interesting and a must-read for any writer! To know the detailed process of how she wrote her books, click here. 
Personal Life and Later Years
Family
Christie married her first husband, Archibald Christie, in 1914 when he was an aviator in the Royal Flying Corps.  They had a child named Rosalind in August 1919. It is during this time that she worked as a nurse, while WW1 raged on.
Mysterious Disappearance
Who can pull off a mysterious disappearance better than the mother of mystery novels? Sadly, Agatha Christie disappeared for a total of 11 days in December of 1926, the same year as her major breakthrough. Unfortunately, her mother had just passed away and her relationship with first husband Archie was breaking down. That chilly December night turned into a nightmare when Agatha left her home in London and did not return. Her car was found several miles away from her home the next morning, with no trace of her. The case became a national headline and gave her great publicity, although negative, as a fiction writer. She was found living in Harrogate Spa Hotel under the name of Theresa Neale, possibly even suffering from Amnesia as she could not remember her identity. Agatha, who was an intensely private person, never spoke about this incident to family or friends.
Later life
After the heavily publicized and emotionally taxing times she faced, Agatha was left with a separation from her husband and no income. Her brother-in-law Campbell Christie suggested she compile short stories about Poirot for Sketch Magazine. After this, she painstakingly left for the Canary Islands with daughter Rosalind for some much need recuperation. Here, she finished The Mystery of The Blue Train, the book she had struggled with as she mourned her mother. Late in 1928 Agatha wrote her first Mary Westmacott novel, Giant's Bread, not a detective novel but a work of fiction about a composer forced to work for financial reasons. In 1930, she married her second husband Max Mallowan. Their relationship was forged on travel, as they visited Iraq, Syria, and more places with him.
All in all, Agatha Christie was an enigmatic woman. She was a record-breaker, being among many other things the most translated writer of all time, the only female dramatist ever to have 3 plays running simultaneously on London's West End, and more. Most interestingly, what's left beneath all these facts is a small glimpse into her heart. The fact that she began her first novel after losing a bet. The fact that she was human enough to be too scared to perform her music on stage. Her life is a reminder to never give up and remember that inspiration is everywhere, you just have to find it!
Sources: www.agathachristie.com, www.britannica.com, www.biographyonline.net