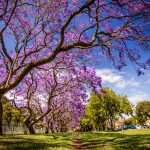 The Tree (A poem by Sanjay Chandra)
I see it every morning
Sitting on the tree
A solitary blue feathered kingfisher
Waiting for the dawn 
To fly in the sky
Certain in its skill
Of finding fish to eat
In the nearby pond.
I see him every afternoon
Sitting under the tree
A man wearing blue clothes
With hopes in eyes
For the steps to stop
For a shoe polish.
I see her every evening
Wearing a faded dress
Rushing past the blooming tree
After a day's work
A longing in her arms
To cradle her child.
I sit here every day
Watching the sun rise
Against the infinite blue sky
For another beautiful day
Day of new blue flowers.
Oh! The Jacaranda outside!