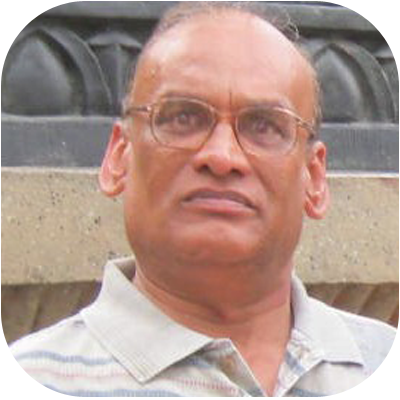 K. Radhakrishnan
Poet K.Radhakrishnan lives in Bhopal city, India. Born on 4th November 1955. He is a underwriter by profession and worked as a senior level executive in NEWINDIA ASSURANCE, India's largest General Insurance Company till his retirement. He is engaged in consultant activities and insurance education. He has co-authored three insurance text books for NATIONAL COUNCIL OF EDUCATION, TRAINING AND RESEARCH(NCERT), INDIA. He has a passion for writing poetry which he pursued after retirement from his job. He writes in English.
Though started writing poetry only from February 2016, the poet has wrritten over 1500 poems which have been highly acclaimed all over the globe. The poet has won many poetry contests and have about 200 certificates awarded by many international facebook poetry groups.
In addition to his own poetry books, the poet has contributed to many international poetry anthologies both paperback and online.
Some of the prominent anthologies are
1. VOICES OF HUMANITY, VOLUME I, VOLUME III and VOLUME IV published by ARDUS PUBLICATIONS, CANADA.
2. Anthology FEATHERS published by HALL OF POETS, NEWDELHI, INDIA
3.Anthology MY DEAR VALENTINE published by HALL OF POETS, NEWDELHI, INDIA
4. HEALING THE PLANET THROUGH SUBLIME ARTS, POETOGRAPHY ANTHOLOGY published by POETRY SOCIETY OF INDIA, YAYATI MADAN GANDHI.
5. LET THE PEN SPEAK FOR PEACE, Published by POETRY FOR PEACE, USA
6. Nominated as poet of the month by WILDFIRE PUBLICATIONS MONTHLY MAGAZINE FOR JUNE 2017, Published by WILDFIRE PUBLICATIONS , USA
The poet has a Facebook poetry page of his own in which some of his poems are published.
POETIC FLAVOURS
https://www.facebook.com/hemkrish41155/
The poet was interviwed by Deborah Brooks Langford, one of the best selling author of USA in her website.
Published Books