Recap: Understanding the value of dressing for your particular shape promises more comfort and confidence in embracing your silhouette, rather than struggling against it. The first step is to ask, What body shape am I? In my last week's column, I discussed properly examining your body, taking your measurements, and what body type you fall into. If you haven't read my last week's column, kindly go through the link given below first to find what shape you are!
Link: http://www.calculator.net/body-type-calculator.html
Examining your shape allows you the opportunity to gain a better understanding of what these areas are, which will allow you to learn about dressing to flatter your figure from this week onwards exclusively on my column.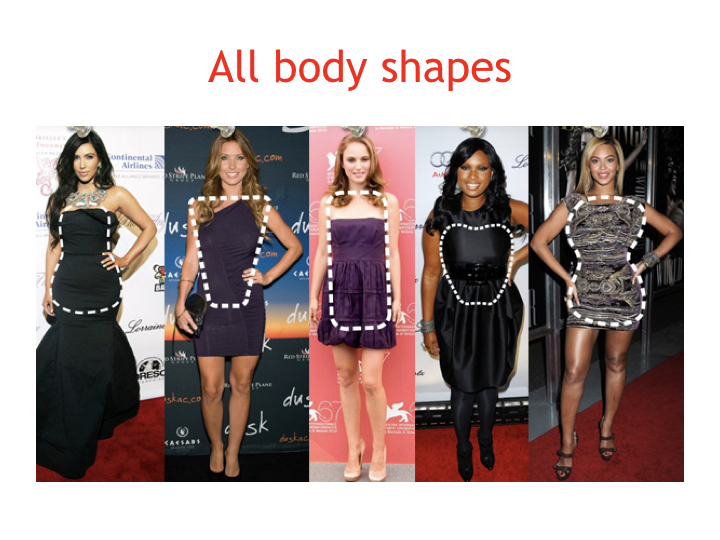 How do you determine what to wear with the overall silhouette of your body?
The 5 main body shapes (or silhouettes if you will) are Hourglass, Rectangle, Pear, Apple, and Inverted Triangle Body Shape. The term "shape" describes the overall silhouette of your body. Meaning – the contours of your body figure based on your waistline. Basically, it's how your upper, mid and lower half are in proportion with each other.
What's most important here is to take a note of the proportions of your body – lower compared to the upper half. And then figure out what needs to be trimmed or added to create a proportional body shape or to create more of an hourglass effect.
Let me explain: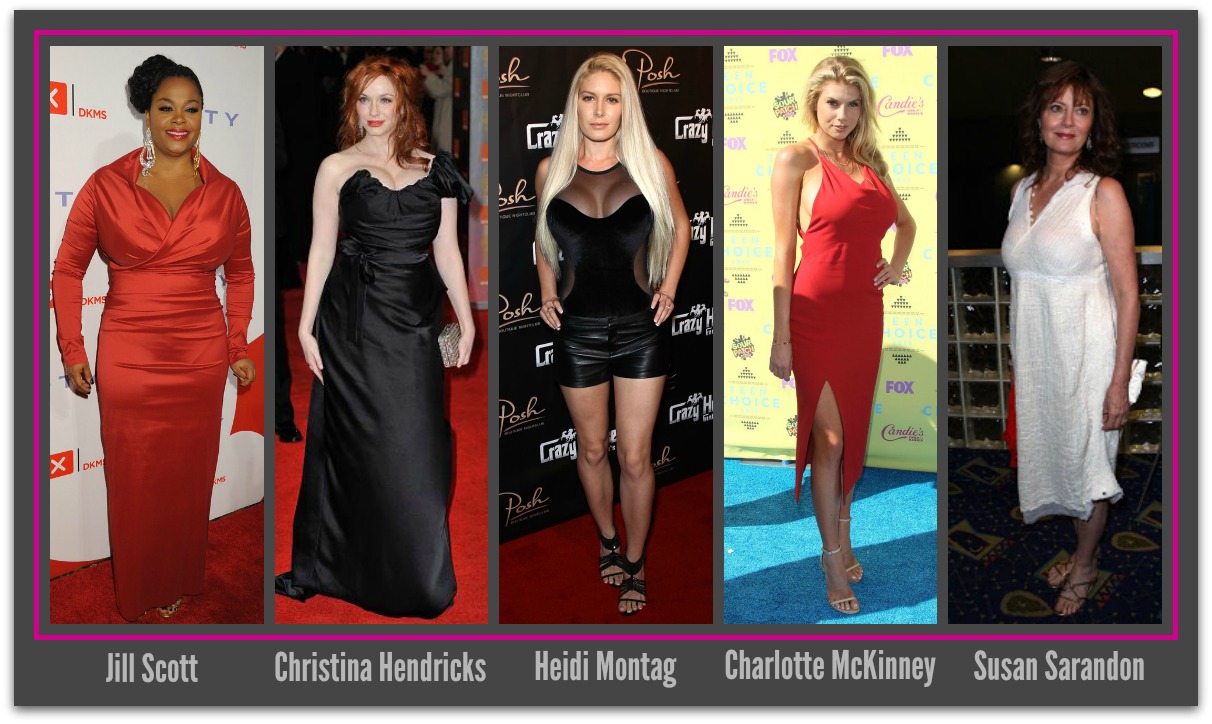 Inverted Triangle Body Shape: You definitely have wide shoulders and bust but you do have a waist and little bit of curves. Now, what category do you belong to now? You could still be an Inverted Triangle because your upper half, the shoulders and bust, are despite everything else, the most prominent area of your body figure. Your goal should then be to balance it out by adding more width to your lower body to make your upper body look less prominent.
Look for tops with narrow V-necks. and nipped-in waists that flare slightly at the hip.
Shirts with a deep scoop or V-necks narrow your upper body. Layer a lighted collared shell with a V-neck to enhance the effect.
Look for deep V-neck wrap style tops. A little flare below the waist will help add curves to your hips.
Wear deep shawl-collared, particularly in dark colors with a light shell underneath.
Look for shirts with vertical details on the upper body. A nipped-in waist and flared bottom will add curves to your hips.
Look for jackets with deep V-necklines, a nipped-in waist and flared bottom or hip pocket details.
The Pear Body Shape:
The key to dressing a pear body shape is to enhance and add volume (or the illusion of volume) to your upper body while emphasizing your waist and de-emphasizing your lower body to create a balanced, hourglass appearance.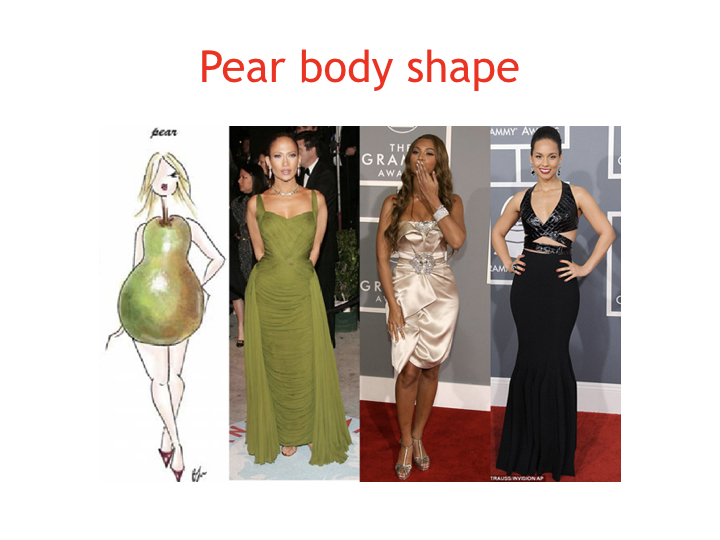 When dressing a pear body type, look for tops that will help balance your lower half while accentuating your defined waist:
Focus attention upward: Pear-shaped women should focus attention on the upper half of their pear-shaped body by choosing slim, fitted tops, button-down shirts, and cardigans.
Embellish around the neck: Shirts and dresses with embellished necklines naturally draw the eye upward toward the slimmest part of a pear-shaped body.
Layer it up: Layering garments can balance a pear-shaped body by adding visual interest to the top half of the body.
Go for an A: A-line dresses and tops emphasize the upper body while slimming wider hips characteristic of a pear-shaped body.
Wide is good: Keep the hems of pants, skirts, and dresses wide to visually balance a pear-shaped body. Pointy-toed shoes with wide-hemmed pants will elongate your legs.
Get a little structure: Structured pants are a great fit, especially those that skim the hips and thighs of a pear-shaped body. Avoid flashy embellishments like cargo pants, funky pockets or embroidery.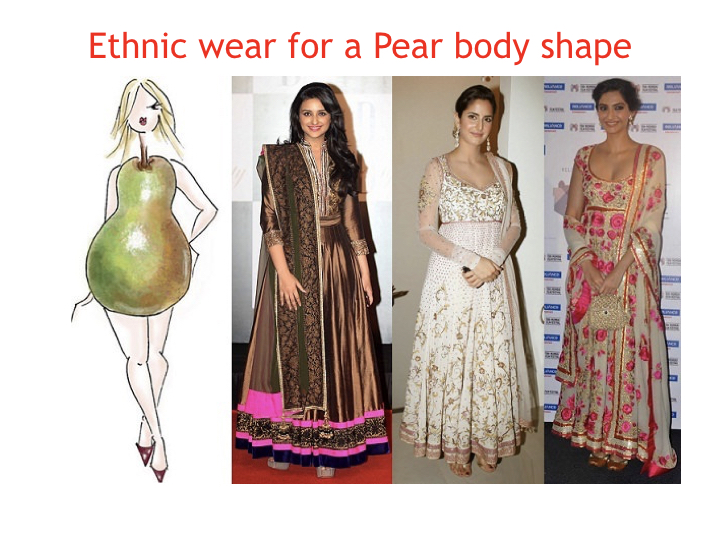 I had chosen Anarkali (Indian attire) for all body shapes for an easy and better understanding of how to create a proportional body shape with all shapes. The key to going ethnic for Pear body type is to draw attention to your slender waist and upper torso.
The Apple Body Shape:
If you have an apple-shaped body, most of your weight accumulates above your waist.  Your back, ribs, and shoulders are broad, and you may feel wider than other body types. A good idea will be not to draw too much attention to your torso.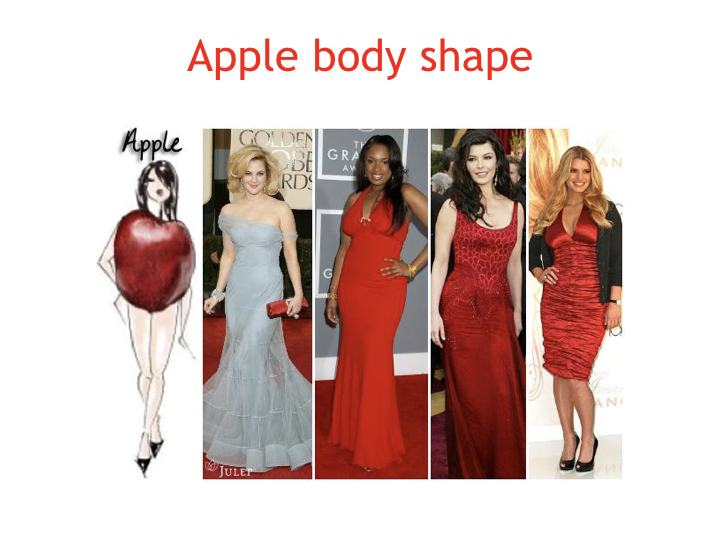 When dressing an Apple Body Shape, follow your body line – avoid details around bust, tummy, and hips. Keep detail in the top and lower thirds.
Keep the clothing line straight to slightly fitted, but fabric soft so you avoid unnecessary bulk around the bosom, waist, and tummy.
Keep details above the bust line and below the hip line – for everything in-between keep it plain and simple
The shoulders need attention so you should balance them from the front and side views
Keep your silhouette fitted underbust and as well below your arms and along your waist
Splits at waist work wonder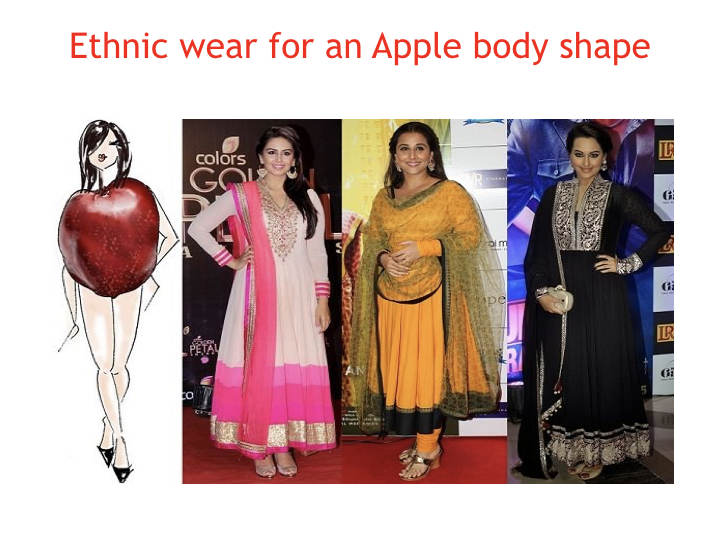 Rectangle Body Shape: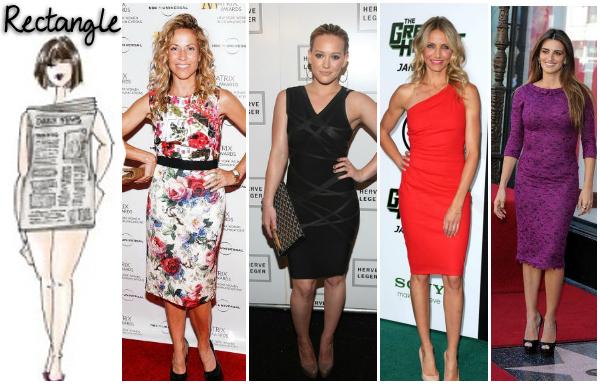 Rectangle body shapes are characterized by the waist, hip and shoulder widths that are all similar to each other. The outline of your body won't have many curves so you'll need to use a few style secrets to create some.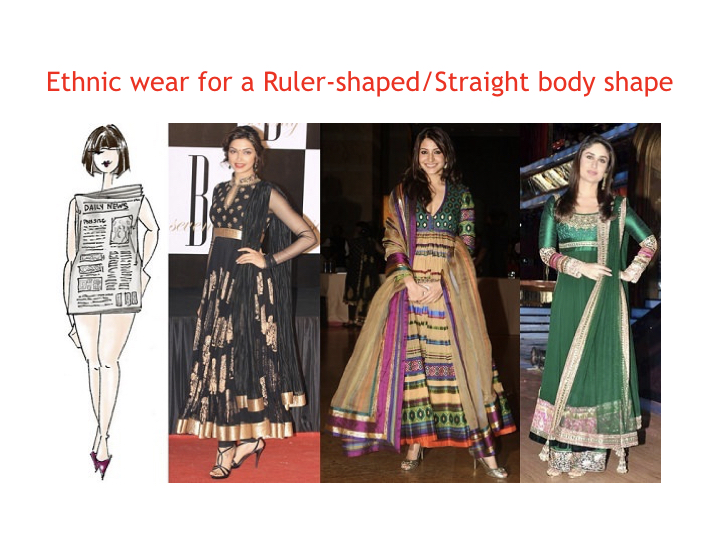 As a rectangle, you will want to create more curves and a pleasing silhouette. You can do this by defining the waist and creating curves on the bottom or top. When dressing a Rectangle or Straight body shape, it's better to avoid shapeless clothes.
Use strong blocks of color to help define your body
As for most body types, be sure to wear a good bra to define what bust you have
Wear tops and jackets that emphasize the waist
Choose a coat with a good waist or that is belted at the waist
Any jacket tailored around the waist will look great
Medium to high necklines usually work well, especially if you have s small bust and long neck
If you like to create the illusion of bigger breasts, choose tops with pockets, rushes, pleating and other front details
Halter necks will also give the appearance of a bigger bust and shows off your back.
Accessorize with belts around the waist. Heavy belts can be really good if you're also of the long waist.
If you have no waist at all, then a belt is best avoided
3/4 sleeves usually work really well for a rectangle
Blouses can look really good if they are tucked in
Shift dresses and empire line dresses work well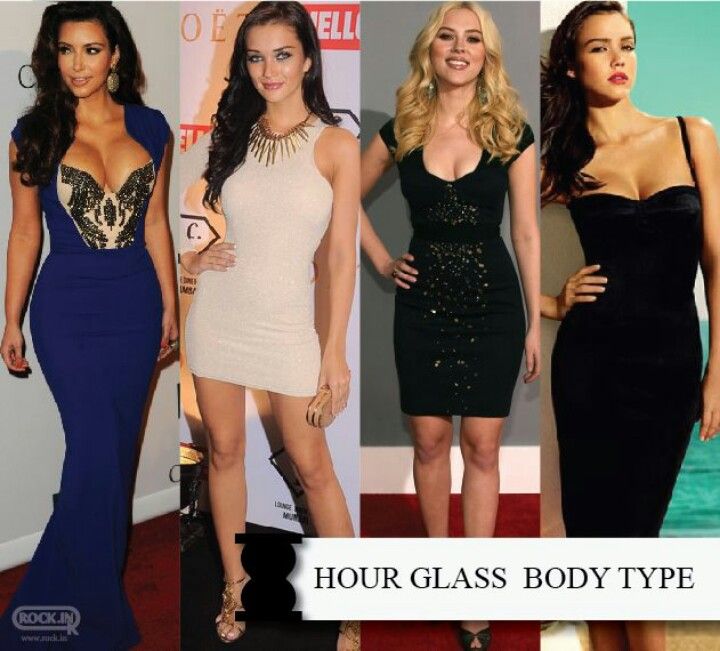 Hourglass Body Shape:
Out of the 5 silhouettes, the hourglass has the best proportions – with upper and lower half approximately in line with each other, along with a defined waist.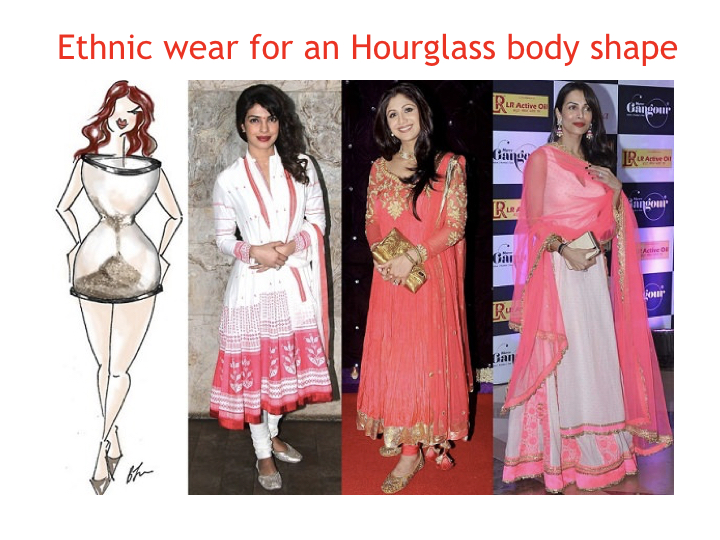 Your upper and lower body are similar in proportion and set off by a tiny waist.  It is probably the most coveted body type. It won't take too much to pick out the right ethnic wear for the hourglass figure. Your shape is all about tastefully showing off those curves: not too baggy, not too tight. In short, nothing needs to be hidden or enhanced since your shape is already proportional and you can pull off just about any dress you choose!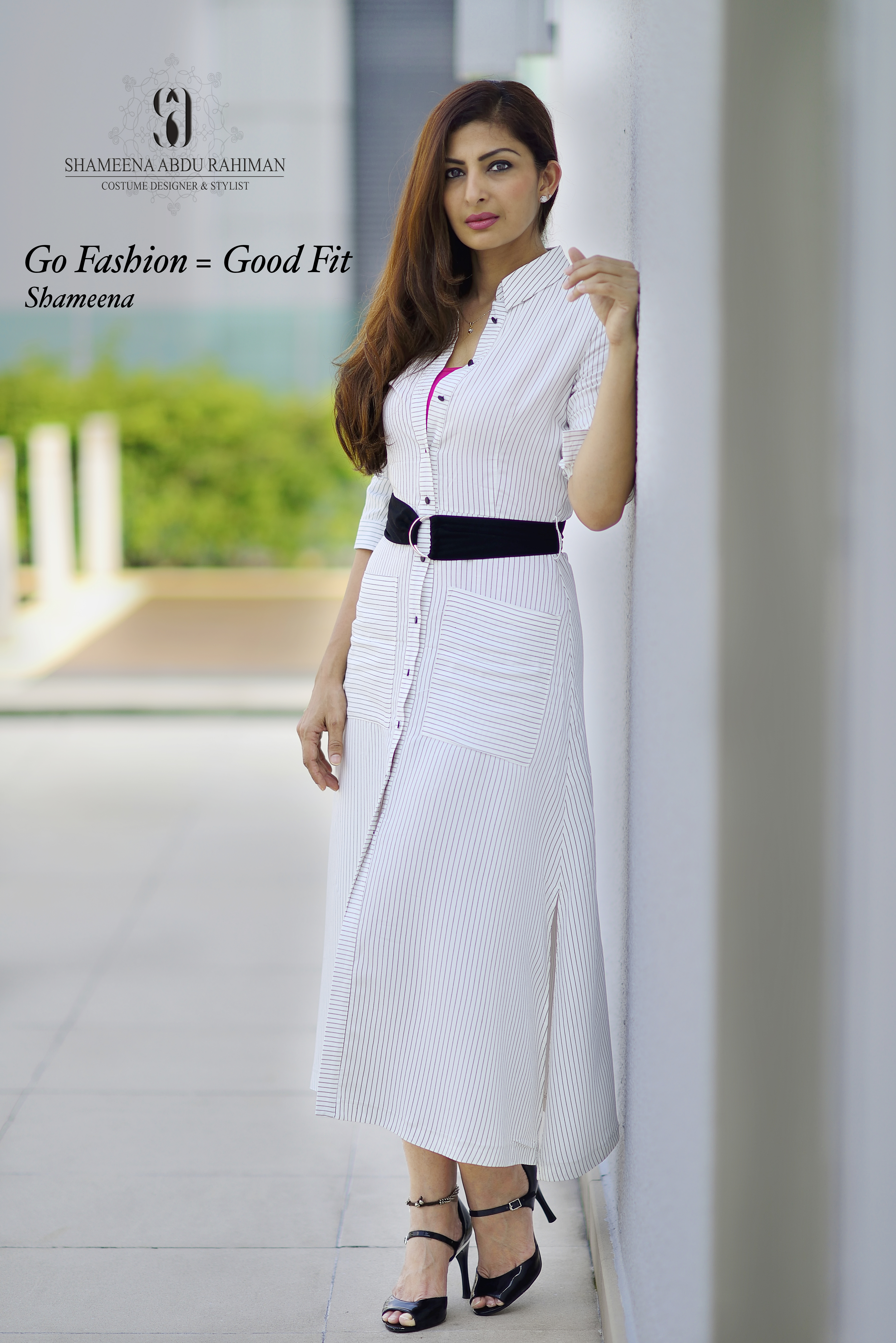 The whole point of figuring out your body shape is to guide yourself to creating a proportional hourglass silhouette on your frame to de-emphasize parts that you feel self-conscious about and that draw attention and rather give more room for attention to your other fantastic assets such as a pretty face, lovely hands, great legs, etc.
By dressing proportionally in conjunction with your body figure, you'll avoid the unnecessary 'heavy point' that will take the whole center-stage and leave your best features in the dark.
Now that we had determined and learned about our body shape and its features, the next question which arises in mind always is: How to choose good clothes? Or What are the perfect outfit ideas?
To me, Good Fit = Good fashion. What is a Good Fit? Why "Fitting Clothes" is important? I will be discussing in my upcoming article exclusively on UBI! Stay tuned!
Shameena Abdurahiman, Fashion Designer & Stylist.