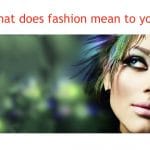 What is fashion?
What you wear is how you present yourself to the world, especially today, when human contacts are so quick. Fashion is instant language. —Miuccia Prada
To some, fashion is an art form. To others, it is almost like a religion. For most people though, fashion is a method of utilizing clothing, accessories, and grooming to show or hide something about yourself. Fashion can be an extension of your personality, allowing you to introduce parts of your personality to the world without saying a word.
My Journey through Fashion.
I've always loved fashion, ever since I was little. I was born and brought up in India. Mumbai is considered a fashion capital of the county where the society ladies ape the Mumbai look or copy Bollywood trends! As a child, my only understanding of fashion was from pictures featured in the Bollywood Movie magazines and Movies. Any outfit adorned by an actor or actress in a hit movie immediately becomes a prime sartorial trend for women in my society.  But sourcing the right material and experienced tailors to reproduce such a trend was often a failure. Hence, the ready-made industry was the only source for women in our society. Ready-made shops sold these clothes in bulk and named them after the character or movies. One of the earliest movie influences on Indian fashion was Madhubala's Anarkali attire in Mughal-e-Azam (1960) which consisted of long flowing churidars and kurtas. The Anarkali kameez is popular even today, around 50 years after the film was released.
Everyone wore Anarkali! You could see it everywhere in the same cut and pattern! It became a fad in fashion. After a certain period of time, Anarkali became a boring attire and women craved for next upcoming hit Movie!
I noticed not every woman fitted into Anarkali properly due to their body-shapes and all their effort and money had been wasted. To be frank, when Anarkali was in trend, even I wore it. Because wearing Anarkali was a fashion status quo. Wearing other than that attire was considered like a wrong-doing. It created a certain amount of pressure to fit in or pander the accumulated mindset of fashion trends among society or peer groups.
We're all storytellers, whether we think of ourselves that way or not. I believe clothes have power over our minds! The clothes we wear can capture memories and feelings. My relationship with fashion change when I realized the risk to remain tight in a bud was more painful than the risk it took to blossom. From the fashion boredom a craving to express the self-hood blossomed!
What is your story about fashion? What does fashion mean to you? Are you a victim of a similar fashion trend? Do you wear clothes to express yourself or it is simply about fashion trends? Is it something else altogether different?
To me, Fashion is an expression of one's inner self and not a reflection of everyone's expectation of what should be expressed. Nothing is as refreshing as seeing someone walk down the street in their own little world of awesomeness! When we stand out with our "Self-Hood", we are no longer a slave to what the trend pages say! "Always wear what you want to wear" – I emphasize this quote everywhere at my work.  Express your Self-Hood with your genuine uniqueness to inspire others.
Have you ever wondered why and how clothes and personality are linked? What's the connection between the two?
How we present ourselves to the world is a clear and often remarkably forthright reflection of who we are or who we want to be. What you wear says a lot about You! Who you are, what we believe and where we come from.
What goes on inside each individual's psyche is carefully hidden behind ego defenses, habitual behaviors, and socially dictated norms. The way we dress and style indicates an individual's personality, self-image and at times, even his or her world view. In every sense of the word, we 'dress to impress', to make a statement to the world about who we are and how we want the world to see us. Nevertheless, it is a good idea to occasionally step back and look at our clothes and personality and how others see us through those; hopefully, we can learn something about ourselves in the process of as well.
In my styling class, I always emphasize "self-Hood". The first step towards Self-Hood is to learn to Love Yourself. What exactly does this phrase mean and how do you accomplish it? How is it linked with clothing? Stay tuned with UBI for my upcoming article….
Shameena Abdurahiman