They say "Home is Where the Heart Is" and quite shockingly, the house-arrest thing presented a "similarly different" picture…far too many people are feeling locked up…almost imprisoned, bored, out of place…
and that struck a chord…
for it brought out before us the differences between a house and home…
A house, on one hand, is an invested address of bricks and mortar…a home, on the other hand, is the addressions of feelings of love and belonging, of sharing joy and curing sorrows… hurts and disappointments, a story of who we are and where we belong, of rest and not of test…and then, a home can also be a person.
A home is a place where dreams are crafted and created…
A home is not a boardroom of PowerPoint presentations but of Powerful Settling and Unsettling Conversations.
Unfortunately, we have all been taught to buy houses, invest in houses…only if we were taught towards investing in creating homes…
Maybe, this house arrest has given us an opportunity to feel homebound, to recreate bonds that don't feel like boundations, obligations and limitations, maybe it's an opportunity to meet those whom we have never met before despite staying together for years…maybe time to create a new you—bring back the curious child who had gotten lost in the process of growing up…and maybe it's also an opportunity to enquire, to introspect…
Why house arrest and not homebound??? and why a house and not a home???
Why not take this opportunity to do the real Homework (the work within) and try and create a home of a house, on which we spent, even exhausted years of ourselves, of our lives just buying, procuring and purchasing…A house can always be purchased, a home can never be sold…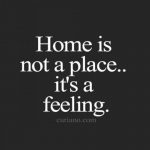 Vaishali…